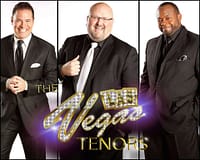 Bobby Black's musical talents have deep Southern Gospel roots. Bobby has been singing since the age of 3 at his local church and after attending Troy State University, Bobby sang with The Zion Brothers, a national touring Southern Gospel Quartet for 7 years as a featured vocalist. He was also picked as one of the male production singers on Celebrity Cruise's flagship, Millennium.
Paul Vann is a singer, songwriter and entertainer originally from Lake City, Florida. As a singer, Paul began his career at Nashville's Opryland USA. He has continued his success over the years both recording and songwriting, and his versatility has allowed him to record and perform in nearly every musical genre. For over a decade he entertained thousands on the famed General Jackson Showboat and his voice can also be heard on radio and television commercials all over the country.
John Ross spent a year on Broadway doing interactive production work as a lead singer/dancer at the venue Spotlight Live – Celebrity Karaoke. John was fortunate enough to sing background and dance for acts such as Natasha Bedingfield and Prince.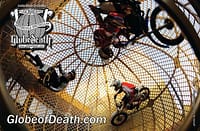 This LIVE action stunt creates a unique guest experience of all ages. It is our job to hold the attention of your guest, attract thrill seekers and to make a lasting impression on them so they tell their friends. Your job is to utilize the time while your guest are watching our performance to invite them to see your product or services. The "Globe" as we call it is a 14′-6″ Metal Mesh Sphere that utilizes 2-4 motorcyclist who ride simultaneously inside narrowly missing each other.